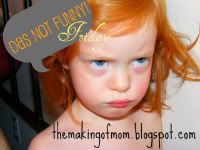 So Caleb is back this week and you know that means fun times! Make sure you click on the above link for some more funny stories.
~~~~~~~~~~~~~~
On the way home from church on Sunday, Caleb noticed some trash on the side of the road and asked how it got there.
Me: Someone threw it out of their car. We call that littering and the people litterbugs.
Caleb: What can we do to stop the litterbugs?
Me: Well, sometimes they are charged lots of money for it.
Caleb: We can attack them with axes, crowbars and sledgehammers. That will stop them next time.
True, that would probably stop them.
~~~~~~~~~~~~~~~~~~~~
David was talking about some situation and mentioned that the guy involved "just did it to cover his butt." Caleb's ears perked up. "Why did he want to cover his butt daddy? Was he running around naked?"
____________________
Nathan discovered his long lost twin this morning:
They played together for quite awhile and the twin promises to visit another time soon. ;)
Have a fabulous weekend!